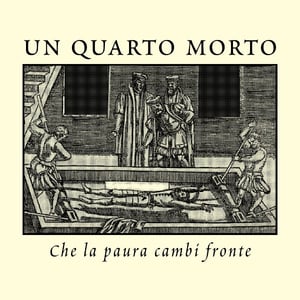 €

6.00 - On Sale
1. Premio di consolazione
2. Gregge ad alto reddito
3. Subordinati alle tue colpe
4. Disintegration (Verbal Abuse cover)
Un Quarto Morto has been one of the most important italian DIY HC band for over 4 years; they made a bunch of seminal records for italian fastcore scene... great music with very intelligent lyrics.
Now they disbanded and this 7", containing 3 unreleases songs + 1 Verbal Abuse cover, is their epitaph.
You can stream all the tracks here.
7" is pressed in a limited edition of 200 copies: 100 copies on black vinyl with blank side silkscreened by Serimal and 100 copies on mixed ivory and black vinyl not silkscreened.
http://www.myspace.com/hangedmanrecords
http://www.myspace.com/unquartomorto